Product Description
ESR1 reference set serves as a quality control material for ESR1 mutation assays on cell free DNA (cfDNA) level. The selection of mutations was reviewed and endorsed by various experts in the field and ESR1 test developers.
This product is suited for PCR and/or Next Generation Sequencing (NGS) assays.
Overview of vials and mutations:

Quality control materials (QCMs) from SensID serve a vital role in clinical laboratories that use a variety of assays, including laboratory-developed tests (LDTs) and CE-IVD (Conformité Européenne – In Vitro Diagnostics) labeled assays.
Use as full workflow control material:
For full workflow controls we recommend using our DNA depleted plasma products. Blend the DNA as necessary with the DNA depleted plasma to receive plasma materials with the necessary DNA concentrations.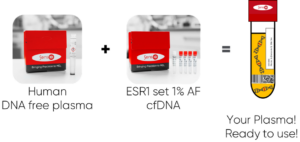 Link to the DNA free plasma products
Use at lower Variant allele frequencies:
If you want to test your lower limits of detection we recommend to use the wildtype control material provided with the set.
OEM options and more:
If you need materials as in kit controls or as a third party control for validation of your kits at customer labs, please contact us via: sales@sens-id.com
Use with LDTs for:
assessing test accuracy
verifying analytical sensitivity and specificity
monitoring reproducibility
validating new batches and reagents
ensuring quality assurance
troubleshooting errors
when developing and running LDTs for identifying therapeutically relevant mutations in DNA, the use of QCMs is especially important to guarantee the reliability of the results and patient safety.
Use with CE-IVD Labeled Assays:
CE-IVD (Conformité Européenne – In Vitro Diagnostics) labeled assays are commercially manufactured in vitro diagnostic assays that have received Conformité Européenne (European Conformity) certification. Using an external quality control material like SensID's alongside CE-IVD labeled assays in a laboratory offers several advantages:
Independent Assessment: External QCMs are produced independent of the CE-IVD assay manufacturer. This independence ensures that the QCMs are unbiased and not influenced by the assay manufacturer, providing a more objective assessment of the laboratory's performance.
Validation of Manufacturer Claims: External QCMs can be used to independently verify the manufacturer's claims regarding the assay's performance characteristics, such as accuracy, precision, sensitivity, and specificity.
Continuous Improvement: External QCMs provide a tool for laboratories to continually monitor and improve their assay processes. If discrepancies or issues are identified during the use of external QCMs, laboratories can take corrective actions to review and enhance their assay performance.
Regulatory Compliance: In some regions, regulatory authorities may recommend or require the use of external QCMs as part of the quality control process. Adhering to such recommendations or requirements ensures that the laboratory complies with regional quality and accreditation standards.
Risk Mitigation: By using external QCMs, laboratories reduce the risk of relying solely on manufacturer-provided QCMs, which may not cover all potential sources of variability or may not adequately challenge the assay's performance across its entire analytical range. For example: commonly used in kit controls use plasmids as positive and negative controls. Plasmids do not reflect the complexity of a patient sample including the full genomic background. If in doubt ask your assay provider about the included control materials.
Confidence in Results: The use of external QCMs contributes to the overall confidence in the accuracy and reliability of test results generated by CE-IVD assays. This confidence is essential when using these assays for patient diagnosis and treatment decisions.
Additional information:
According to results from the randomized phase III EMERALD Trial progression free survival (PFS) was prolonged in all patients (hazard ratio = 0.70; 95% CI, 0.55 to 0.88; P = .002) and patients with ESR1 mutation (hazard ratio = 0.55; 95% CI, 0.39 to 0.77; P = .0005). Elacestrant is the first oral selective ER degrader demonstrating a significant PFS improvement versus standard of care (SOC) both in the overall population and in patients with ESR1 mutations with manageable safety in a phase III trial for patients with ER-positive/HER2-negative advanced breast cancer (2).
Buffer:
Tris-EDTA (10 mM Tris, 1 mM EDTA), pH 8.0
Storage:
2-8 °C
Expiry:
stable for 24 months from date of manufacturing (as supplied)
Quality control
Fragmentation size:
Electrophoresis-Tape Station (Agilent)
Allelic Frequency:
dPCR (metrologically recognized primary reference measurement method) (3)
Quantification (metrologically traceable):

UV-Vis Spectrophotometry (NIST-Reference method)
Fluorometric dsDNA measurement (Qubit)
Technical background
Wild-type cfDNA for the above ESR1 mutations.
* GRCh38
Literature:
Clinical Implications of Monitoring ESR1 Mutations by Circulating Tumor DNA in Estrogen Receptor Positive Metastatic Breast Cancer: A Pilot Study
Elacestrant (oral selective estrogen receptor degrader) Versus Standard Endocrine Therapy for Estrogen Receptor-Positive, Human Epidermal Growth Factor Receptor 2-Negative Advanced Breast Cancer: Results From the Randomized Phase III EMERALD Trial