Product Description
Reference materials for Pharmacogenetics (PGx)
SensID has developed a totally platform agnostic control for dihydropyrimidine dehydrogenase (DPYD; DHP; DPD; DHPDHASE) testing. The implemented variants were selected based on publications and suggestions of various working groups and key opinion leaders who support the implementation of DPYD testing. Authorities like EMA and NHS are recommending that all patients have to be tested for DPYD deficiency prior to systemic therapy with the FU-containing drugs 5-fluorouracil (5-FU), Capecitabine, Tegafur and Flucytosine. This product consist of 1 vial of gDNA at 50% allele frequency for below specified mutations with a highly characterized genomic background. Mutations in this gene result in DPYD deficiency, an error in pyrimidine metabolism associated with thymine-uraciluria and an increased risk of toxicity in cancer patients receiving 5-fluorouracil chemotherapy.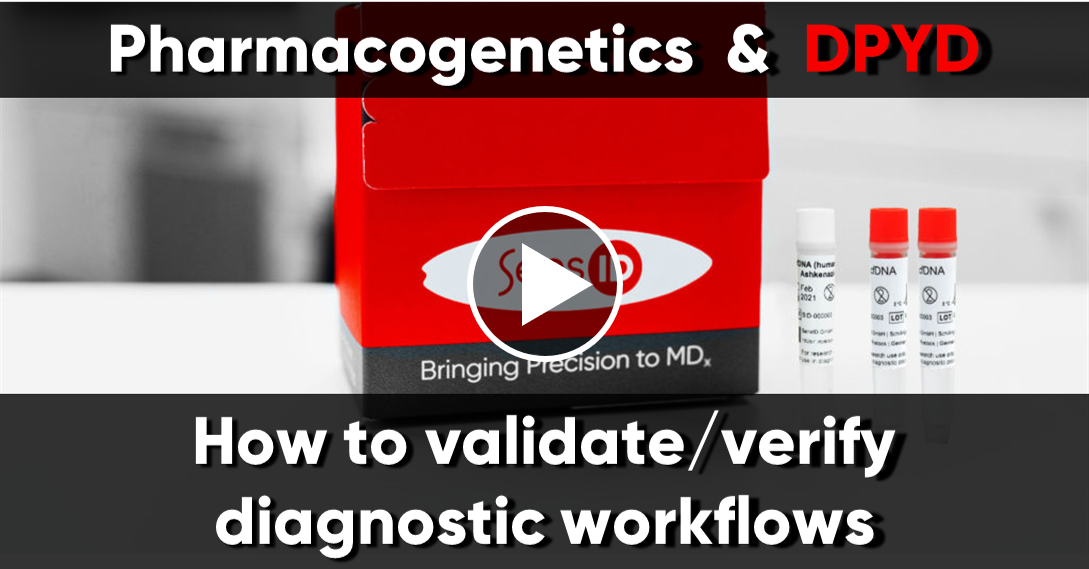 Therapeutic indications where DPYD mutation status is relevant:
colorectal cancer
gastric cancer, pancreatic cancer, oesophageal cancer
breast cancer
squamous cell carcinoma of the head and neck
biliary tract cancers
Non–small-cell lung cancer (NSCLC)
Systemic yeast and fungal infections due to sensitive organisms
This product is ideal for Next Generation Sequencing (NGS) workflows. In particular:
– Validation and development of sequencing protocols (e.g. Whole Genome Sequencing (WES), Amplicon Sequencing) and PCR protocols
– Calibration and development of instruments and workflows in DNA processing (e.g. DNA fragmentation via acoustic shearing, enzymatic digestion or sonication)
– Analyze the performance of your NGS pipeline by comparing to freely available datasets
Unit Size: 1000 ng per vial (1 vial in total)
Concentration: 10 ng/µl
Included mutations (ddPCR validated):
DPYD-Multiplex gDNA Mutation Overview
rs number
HGVS Nomenclature
Amino acid change
Allele frequency
EMA recommended
rs56038477 (HapB3)
c.1236G>A
p.Glu412=
50%
rs67376798 (Polymorphism)
c.2846A>T
p.Asp949Val
50%
rs55886062 (*13A)
c.1679T>G
p.Ile560Ser
50%
rs3918290 (*2A)
c.1905+1G>A
Not provided
50%
Additional mutations covered:
rs75017182 (HapB3)
c.1129–5923C>G
Not provided
50%
rs72549309 (*7)
c.295_298delTCAT
p.Phe100fs
50%
rs115232898
c.557A>G
p.Tyr186Cys
50%
rs56276561 (HapB3)
c.483+18G>A
Not provided
50%
rs1801160 (*6)
c.2194G>A
p.Val732Ile
50%
Further variants were investigated. See "additional mutations covered".
Buffer: Tris-EDTA (10 mM Tris, 1 mM EDTA), pH 8,0
Storage: 2-8 °C
Expiry: stable for 24 months from date of manufacture (as supplied)
Quality control
Fragmentation size: Agarose Gel-Electrophoresis
Allelic Frequency (metrologically traceable): ddPCR
Quantification (metrologically traceable): Fluorometric dsDNA measurement (QuBit)
Technical background
Derived from: SensID proprietary cell line
Bioinformatics: Whole Exome Sequencing (WES) data available on request. Please send a Mail to info@sens-id.com.