Rostock, 7th of April 2020 
SensID GmbH, a Germany based provider of controls and reference materials for clinical genomics, today announces that it has developed a set of controls for the US FDA approved and CE-IVD marked therascreen PIK3CA RGQ PCR Kits from QIAGEN. 
The CE-IVD therascreen PIK3CA RGQ PCR Kit was launched in Europe in February 2020 as an aid to the identification of activating PIK3CA mutations in samples of either FFPE tumour tissue or blood plasma taken from patients with advanced breast cancer. The US IVD Kit was approved by the FDA in 2019 and has been successfully commercialized in the U.S. as a companion diagnostic test for the Novartis drug PIQRAY® (alpelisib). 
As more stringent regulations such as the IVDR demand that external control materials are used to support laboratory quality management systems, QIAGEN and SensID collaborated on the creation of a full control set, which includes 11 clinically actionable PIK3CA mutations. These mutations are estimated to be present in approximately 40% of hormone receptor-positive, human epidermal growth factor receptor-2 negative (HR+ / HER2-) advanced breast cancer cases and confer a greater likelihood of responding positively to treatment with PI3Kinase inhibitor drugs. 
"Collaborating with QIAGEN was a very interesting experience for a young organization like ours but it has clearly proven the value we can bring to IVD developers", said Bjoern Nowack, CEO and Co-Founder of SensID GmbH. The control set contains 7 vials (DNA in buffer) in a format which is matched to the reaction mixes of the therascreen Kit, and each set provides sufficient material for ~40 runs.  SensID also offers a Certified DNA Free Human Plasma that can be used in conjunction with this DNA sample set, if suitable plasma is not available locally. "We believe that utilising high-quality control materials for assay quality management is an absolute must when these assays are used in the practice of Precision Medicine. Our services and products enable just that" added Ronald Vos, Business Development at SensID. 
The controls are now available for purchase and supply to laboratories around the world, additional information can be found at https://www.sens-id.com/shop/cfdna-ctdna-en/sid-000099/  
About SensID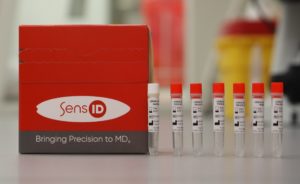 SensID GmbH is specialized in the development, manufacturing and marketing of reference materials and quality controls for use in clinical genomics/DNA diagnostics. We offer our customers reference materials and quality controls that are precisely characterized and manufactured under the highest standards. Our products are the ideal solution for your R&D, validation of your instruments, external control, preparation of accreditation, ring trials, conformity assessment, as part of your diagnostic test kit, and much more.